Memorial Day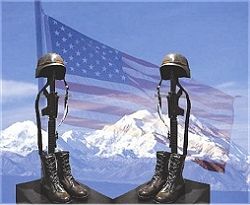 Lest we forget...


To my American friends, and all the families and friends who have suffered loss... my thoughts and prayers are with you.


To Sgt. Dub, stay safe and come on home my friend.


THEY SHALL GROW NOT OLD AS WE
AGE SHALL NOT WEARY THEM NOR
AT THE GOING DOWN OF THE SUN


Love you all more than my luggage!
Hugs, smooches and gropes!
Labels: fallen soldier, Memorial Day, veterans